The following is a collection of miscellaneous Realia items (with English translation) which reflect the topic of Human Rights in the Arab world.
These realia items were carefully selected to include a wide range of the most commonly used law and human rights vocabulary.
In the events and demonstrations banners/posters realia, they are particularly used in the context of increasing awareness about the situation of Human Rights concerns in the Arab world.
The realia types available in this post are:
Organisations logos
Book covers
News Video Report Realia
Events and demonstrations banners/posters
Links to relevant vocabulary learning resources are listed at the end of this post.
V-tivity
Translate the text/meaning of the following realia items:
Book/Journal Cover No. 4

What are the main front cover articles?

Events and demonstrations banners/posters
Organisations Logos
---
PCHR – Palestinian Centre for Human Rights
---
Palestinian Human Rights Foundation
---
Syrian Human Rights Organisation
---
Office of the UN High Commissioner for Human Rights –
---
|
The International Declaration of Human Rights – Dignity and Justice for All
Book Covers
---
Human Rights Competition/Quiz for university and school students
---
Women's Rights (International Documents)
---
Human Rights Constitutionality
---
|

Going to extremes in Human Rights – A brief general encyclopedia
---
The Right to Health is a Human Right
---
A Directory/Guide for Human Rights Education
---
Human Rights, Essential Concepts – Why, How and When?
---
حقوق الإنسان.. بين النظرية والتطبيق في مجال إستراتيجيات حماية الطفل
Human Rights between Theory and Practice in the field of Child Protection Strategies
---
|
News Video Report Realia
---
استمرار التعذيب في سجون مصر
Watch video
Events and Demonstrations Banners/Posters
Translate the following banners/posters?
---
Poster 1:
---
Poster 2:
المؤتمر العالمي حول اننتهاكات حقوق الإنسان تحت الغزو والإحتلال العراقي
---
Poster 3 :
حقوق المرأة – حقائق و أباطيل
---
Poster 4 :
---
Poster 5 :
---
Poster 6 :
---
Poster 7 :
سلب طفولتهم … جريمة
اليوم العالمي لمكافحة عمالة الأطفال
---
Poster 8 :
---
Poster 9 :
التعذيب جريمة نظام – مصريين ضد التعذيب
---
Poster 10 :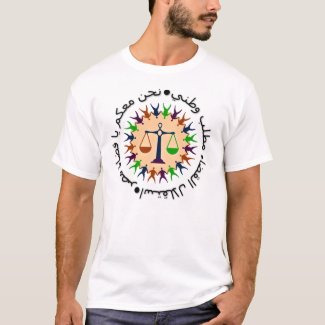 ---
Poster 11 :
بالأرقام : 42% من الشباب هاجروا
---
Poster 12 :
ثلاثة أشهر بدون رواتب
بدنا (نريد) خبز للأولاد – يكفي ذل و استعباد
---
Poster 13 :
لن أبقى لاجئ – سأعود
|
|
---
Poster 14

---
Newspaper article / Poster 15
click to enlarge
---
Source of Realia
Achr.nu
a-tarakji.maktoobblog.com
frontlinedefenders.org
Libya-today.com
Idsc.gov.eg
cihrs.org
bettna.com
geelsa7wa.blogspot.com
zamakan.gharbeia.org
20at.com
saleem55.maktoobblog.com
egwriters.com/admin